Viven Hotel Review | Laoag - Ilocos Norte - Philippines
We stayed in this new hotel for three nights and we kept a good memory of our stay at Viven Hotel in Laoag (Ilocos Norte – Philippines). This hotel is not cheap but not so expensive and it's definitely a best-value hotel in Laoag.
Viven Hotel Review | Laoag - Ilocos Norte :
This hotel is a cheap and best value hotel compare to the amenities provided. We appreciate this hotel very close to Laoag city with many things to do !
1. Entrance and general overview
The hotel entrance is important. At the same time hotel creates features space which reflect the theme of culture, it's a modern hotel. The lobby was nice and clean. Everything was so well-kept and each feature with modern furniture's designed. The reception area, ambiance was really good. They did a very good job designing this place in a relaxing atmosphere and beautiful environment.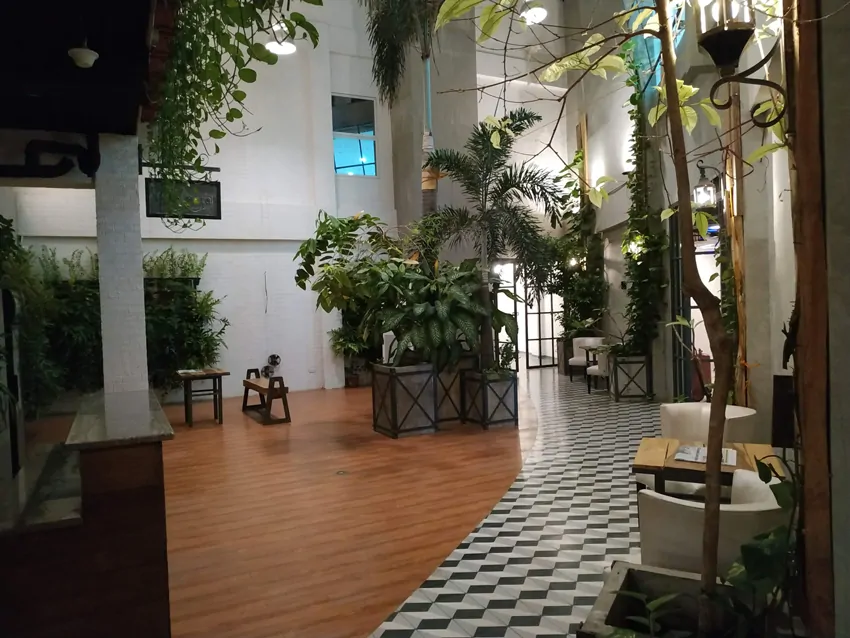 Patio in 3rd floor at Viven Hotel in Laoag - San Nicolas
The corridor and the patio are really good too especially the one located at 3rd floor.
2. Rooms of Viven Hotel
The room is large and it's really clean, that what we need the most when we travel. Especially the bathroom and shower is very clean. We had a great spacious room, the bed was really good and well equipped.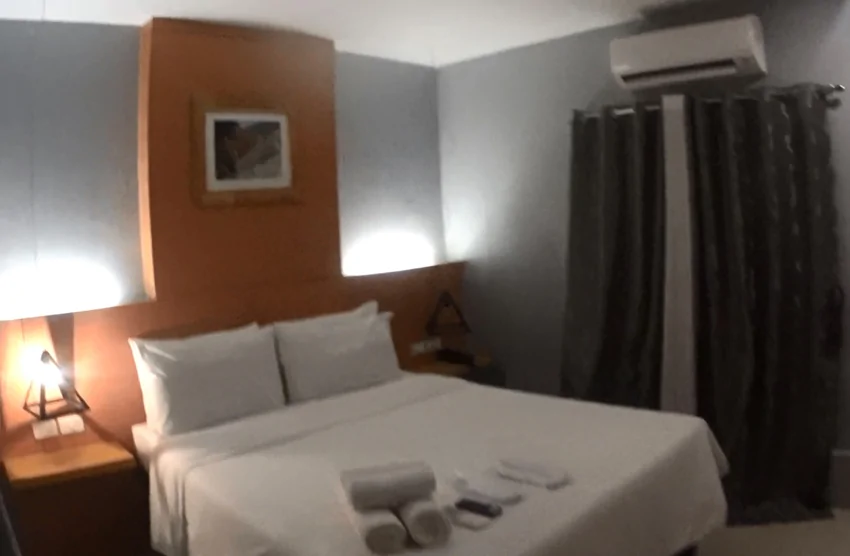 Double Bed Room at Viven Hotel in Laoag - San Nicolas
Viven hotel can also provide twin rooms and suites. All the rooms are equipped with a brand new Aircon perfectly working and TV. We truly made the right choice for our travel. Management and staff definitely went out of their way to make this a pleasant stay for us. We were very pleased with the hospitality and friendliness of everyone we feel really confortable at this place in Laoag (San Nicolas Exactly). This was a great hotel with a great price, clearly a decent choice. In the room, you will get your set of clean towels, tooth brush, soap, shampoo and conditioner.
3. Restaurant (Tara-On) and Amenities
It's a spacious restaurant called Tara-On, the continental breakfast was good and the hot breakfast was one you seldom find in Hotels (Even Restaurant) with a great variety. Here are some example of our breakfast and dinners :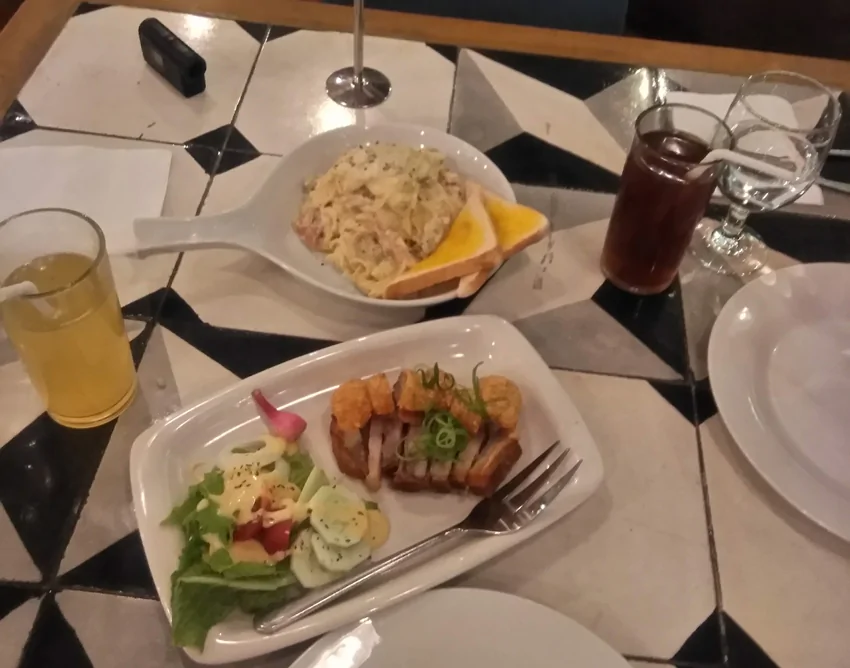 Alfredo Pork Loin pasta and Bagnet Salad - Tara-On Restaurant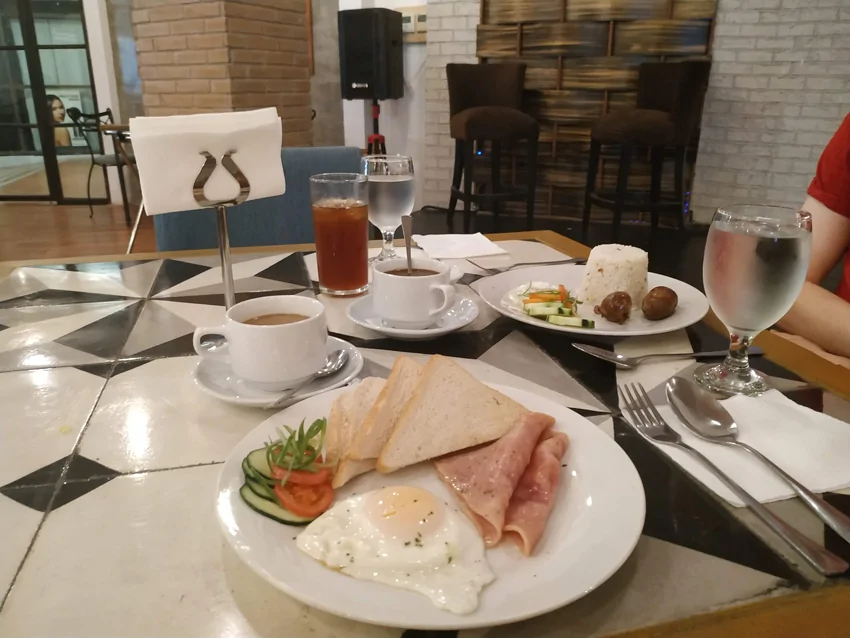 Longganisa and Continental Breakfast - Tara-On Restaurant
There were several kitchen staff member monitoring the preparation of breakfast items; and the very important too is they serve with a smile. The staff in the restaurant was very friendly and seemed to genuinely care. And beyond for group : don't forget to make an reservation. The restaurants staffs and supervisors deserve a special thanks. You will find here the entire menu of Tara-On restaurant in Viven Hotel :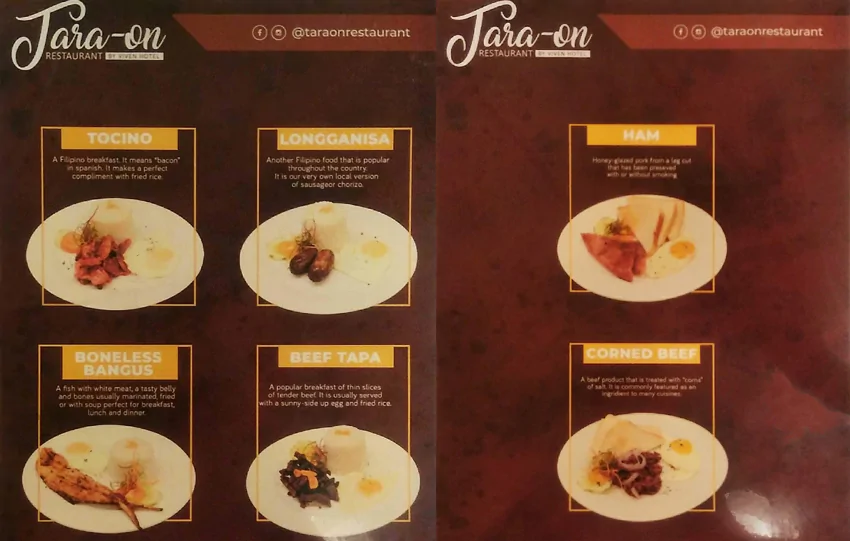 Breakfast Menu - Viven Hotel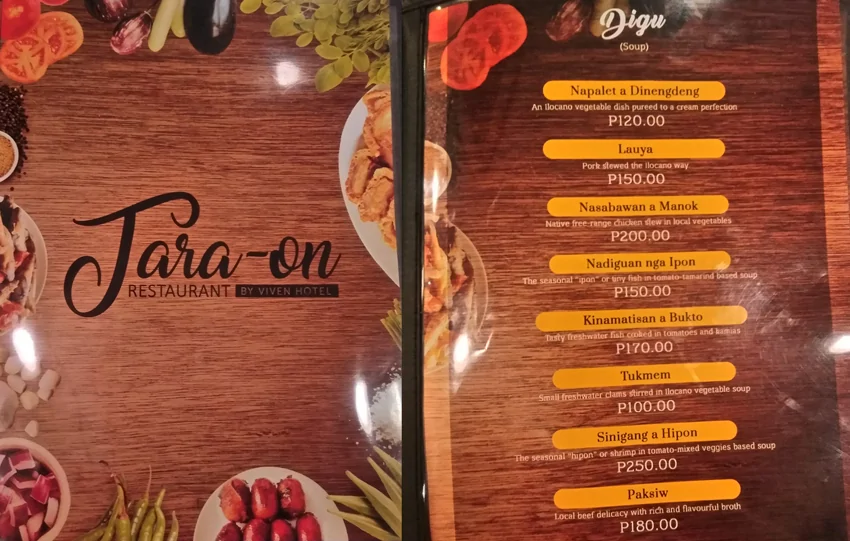 Dinner and Lunch Menu Soups - Viven Hotel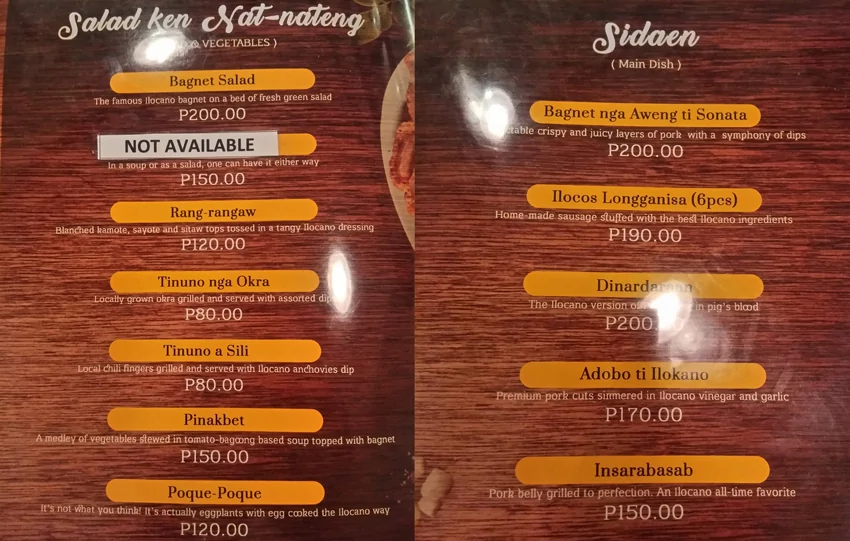 Dinner and Lunch Menu Salads - Viven Hotel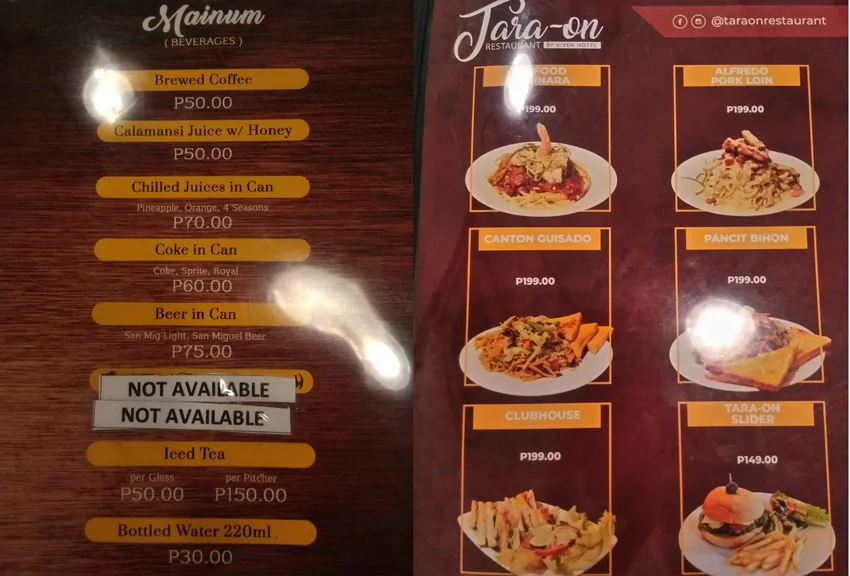 Dinner and Lunch Menu Main - Viven Hotel
Note : This is not a 4/5 stars hotel or so, but the atmosphere is so special that it really felt like home. This hotel can offer a very powerful and efficient WIFI connection for all your devices (I was able to upload the video of this article in only 10 Minutes). They can also provide a Laundry service for 232 PHP per load which is really not expensive (April 2019). They can also provide a paid parking in front of the hotel is required.
4. Location and things to do
The location of this hotel is really near of the jeepney terminal of Robinsons Mall, it's just a walking distance from the entrance to the terminal (150 m). This one is near from everything, as explained you can easily get a jeep or tricycle. Here is the picture of exact location of the Jeepney Terminal.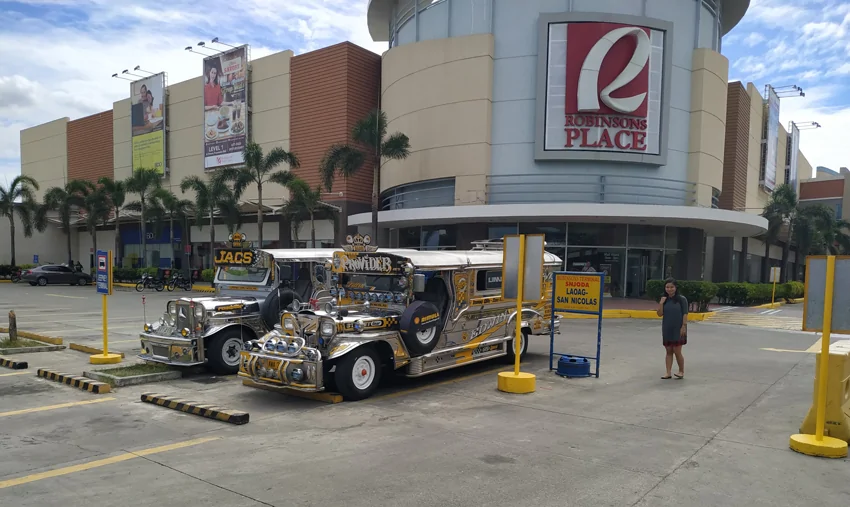 Jeepney Terminal Robinsons Mall next to Viven Hotel
The fare of the jeep is only 8 Pesos from Robinsons, it's only one ride from Viven hotel to go to the proper of Laoag City. Aside from terminals, it's also a walking distance from Robinsons Mall with restaurants, cinema, clothes shop, barbers …. The mall is just in front of the hotel and the most interesting thing is Viven Hotel is near attractions, like : Ilocos Norte Museum and Taoid Museum in Laoag : You will discover the variety of ethnicity and cultural of Ilocos.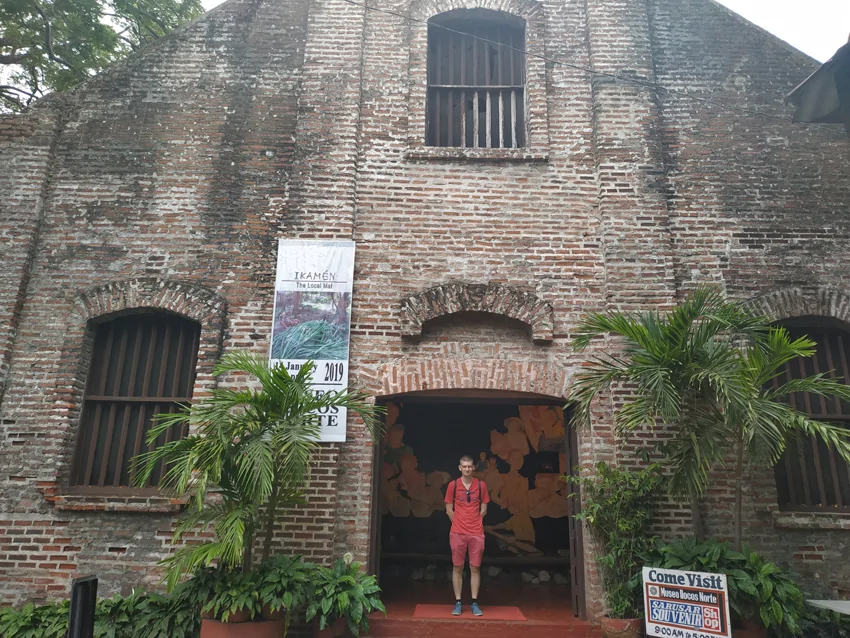 Museum of Ilocos Norte - Entrance
Malacañang of the North : The presidential museum in Paoay, the old residence of Ferdinand Marcos Family when is a was the President of the Philippines. You will enjoy a beautiful view on Paoay lake.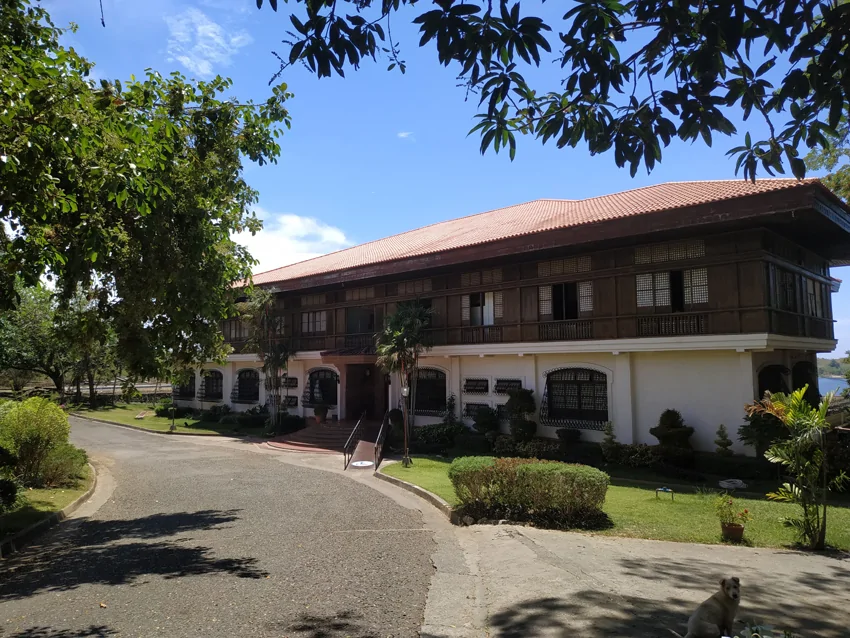 Malacañang of the north - Residence of Ferdinand Marcos family former president
Sand Dunes of Paoay : You can enjoy a very exciting ride in the dunes with a view on the sea.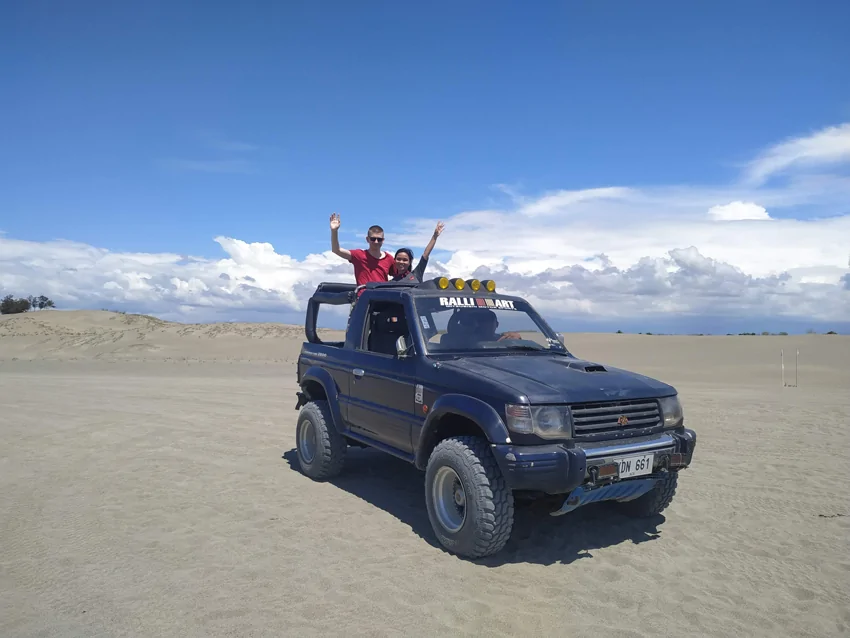 Sand Dunes of Paoay - On the Beach
There are much more things near to visit like San Augustin Church of Paoay, Saint William's Metropolitan Cathedral, Sinking Bell Tower … You will also find à Filipino Casino at the second floor of Viven hotel open from 4 pm to 4 am. (Never forget the casino always wins). We love the location of Viven Hotel which was easy to get to and plenty of eating establishment and activities in the immediate area.
Conclusion: 8.5/10
This hotel is definitely a very good choice if you plan to visit Laoag City, Paoay and Batac in Ilocos Norte in the Philippines. They provide cheap hotel rooms with a very good quality near of everything with many things to do. We really enjoyed our stay at Viven Hotel Laoag. We give them the rating of 8.5 on 10.